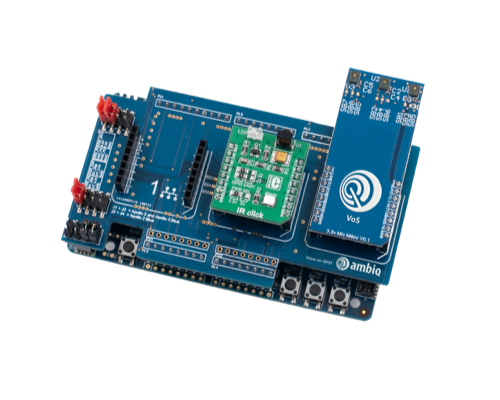 AVS-qualified TalkTo brings power optimized, highly accurate wake word detection to the industry's lowest power MCUs in the Ambiq wearable reference design. Significantly reduce false positives while still meeting the battery life requirements on small, wearable devices.
Near-field always-on, always-listening solution
• DSP Concepts high performance TalkTo Audio Front-end
• Meets AVS 2.1 specification
Extended battery life for wearable
• Proprietary Quiescent Sound Detector together with environment-adaptive microphone processing
• Industry's lowest power operation enabled with Ambiq SPOT™ (Subthreshold Power Optimized Technology)
DSP Concepts' TalkTo for excellent far-field performance in noisy environments
• 2-mic adaptive beamformer with Single Channel Noise Reduction (SCNR)

• State-of-the-art noise cancellation with Adaptive Interference Canceller (AIC)

○ No reference signal needed

○ Eliminates 30dB of external noise sources such as background music or a booming movie

• 35 dB Acoustic Echo Cancellation (AEC) for excellent barge-in performance

• Quiescent Sound Detector (QSD) for wakeup on voice
High Performance TrulyHandsfree™ Alexa wake word from Sensory
Audio Weaver Designer
Drag-and-drop graphical tool to customize and tune audio processing models in real-time with 500+ modules
Audio Weaver Core
Embedded audio processing engine for Cortex-M4
TalkTo Voice UI
Noise reduction, echo cancellation and advanced beam-forming signal processing for far-field voice activation
TrulyHandsfree Alexa wake word
Hardware Specifications
Kit Hardware
Ambiq Apollo3 Blue Plus EVB
mikroBUS Audio Shield
Two DMIC Click boards
Processor
Ambiq ultra-low power Apollo3 Blue Plus MCU
32-bit ARM Cortex-M4F MCU
48/96 MHz TurboSPOT clock frequency
Memory
2 MB

flash and 768 KB SRAM
Audio I/O
PDM

dual interface for mono and stereo audio microphones

Click

board with Vesper VM3011 ZeroPower Listening microphone with 2 VM3000 Mics or Click board with 3 Memsensing Mics
Connectivity
Integrated BLE 5 wireless connectivity
Included with the demo kit
Ambiq

Voice-on-SPOT™ SDK

Voice UI Quickstart Bundle:

Everything you need to know to design voice-enabled wearables, including design guidelines, microphone placement, Audio Weaver Designer layout files (.AWD), and tools to get started.