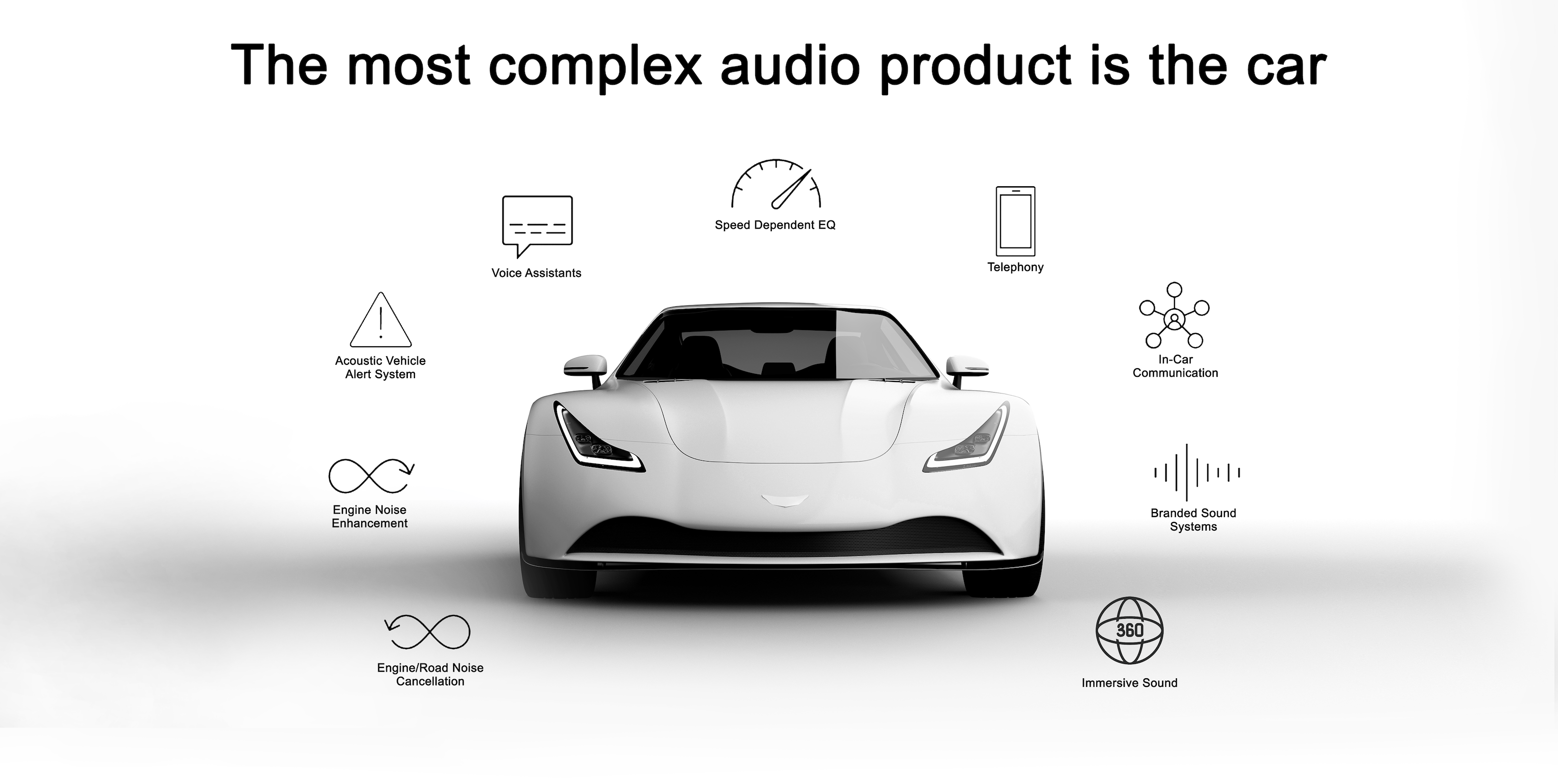 All this complexity running under the hood makes it challenging
for OEMs to provide seamless, intuitive, immersive experiences.
Unique Advantages for OEMs
Control of
The audio experience
The change request process
Cost of change
Flexibility of design
Ownership of
Core use-case capability
Reuse on subsequent generations
Choosing independent supplier partners and IP partners
Awareness of state-of-the-art technologies
Transparency for
System design functionality
Software and hardware requirements
Platform through open IP, hardware and OS independence
Efficiencies due to
A single, cross-functional development platform for all vehicle audio processing needs
A single audio integration
Speed and simplification of change
Ability to take concept directly to production
Fast iteration and evaluation processes
Rapid prototyping hardware for easier evaluations
One audio development platform


for all architectures, vehicle segments, and brands
Distributed Architecture Approach
• Hardware and software combined
• Processing on specialized ICs, SoCs, or running on multicores
Highly Integrated
Audio Processing
• Hardware and software decoupled
• Domain controller architecture on one high computing platform
• Compatible with the software-defined vehicle
Speaker
Processing
• Complete multi-channel playback

• Source selection, source processing, stereo or multichannel source support

• Entertainment and infotainment audio mixing and ducking

• Speed-dependent volume control

• Multichannel speaker EQ, delay, compressor/limiter

• CAN message input control capabilities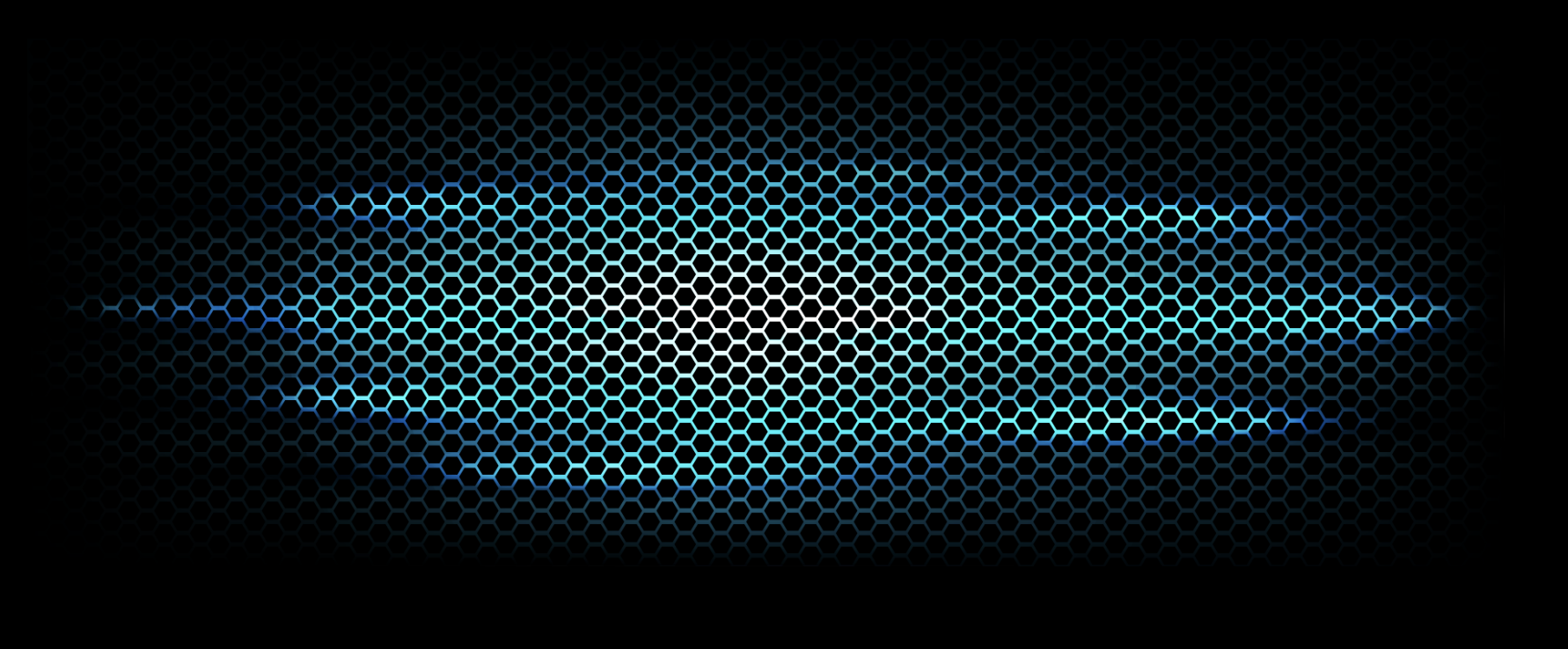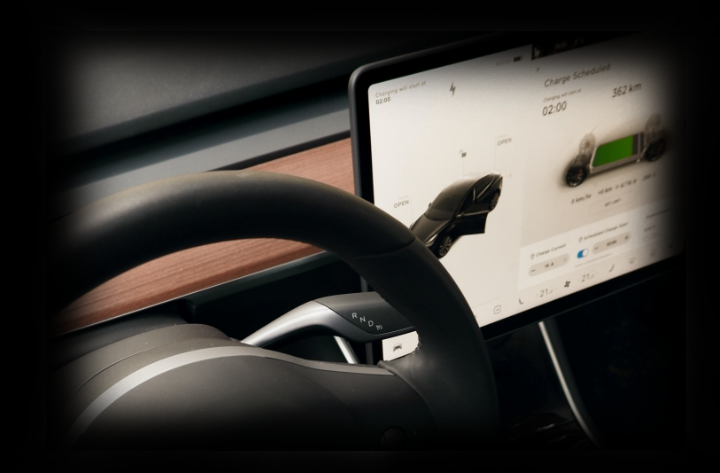 Sound
Design
An Audio Weaver module pack made to craft and tune sound enhancements

•

AVAS (Acoustic Vehicle Alert System)

Pedestrian warning system with FuSa (Functional Safety) requirements

• ESS (Engine Sound Synthesis)

External sound designed to augment combustion engine noise




• Welcome Sound

Played back from exterior or interior speakers

• ISE (Interior Sound Enhancement)

Designed to augment combustion engine sound or create soundscapes for electric vehicles

•

ESE (Exterior Sound Enhancement)

Exterior sounds other than AVAS

• Interior Chimes and Alerts
Design Flexibility
• Microphone topologies
• Microphone array positions
• Number of users
• User scenarios
Development Benefits
• Build out and launch unique and innovative voice applications rather than using a supplier black box
• Run voice solutions on DSPs as well as Cortex A processors
• Use existing microphones for concurrent use cases
• Audio Weaver concurrent speaker and microphone processing
TalkTogether:

Voice Communications
Essential: Front Seating

• Supports single mic and mic array layouts with noise reduction
and doubletalk performance with mono playback

Advanced: Whole Cabin

• Supports multi-mic arrays or per seat mics with adjacent talker
cancellation, advanced noise reduction, and upgraded doubletalk
performance with mono playback

Optional Upgrades Available

TalkTo:

Voice Control
Essential: Front Seating

• Supports single mic and mic array layouts with noise reduction,
Adaptive Interference Cancellation and stereo playback

Advanced: Whole Cabin

• Supports multi-mic arrays or per seat mics with noise reduction,
Seat ID, Adaptive Interference Cancellation, and multichannel playback
Industry Ecosystem Support
Smartphone
Mirroring


Pre-certified
Embedded Voice
Communication • Alexa ACM
• ITU P.1110/1120
Voice Assistants
Support


Supported Voice Assistants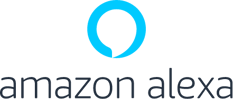 Automotive
Verification Center
Dedicated Automotive Lab in Silicon Valley for precision testing and tuning of automotive voice solutions
• Head Acoustics ACQUA/VoCAS/3-Pass Flex system for detailed test analysis
and performance tuning of voice control and voice communications solutions
in clean, noise, and music conditions.
• Customized test vehicle providing system connectivity with
head unit and OEM audio system in addition to dedicated background noise
reproduction system.
• Mobile equipment rig for data collection and tuning.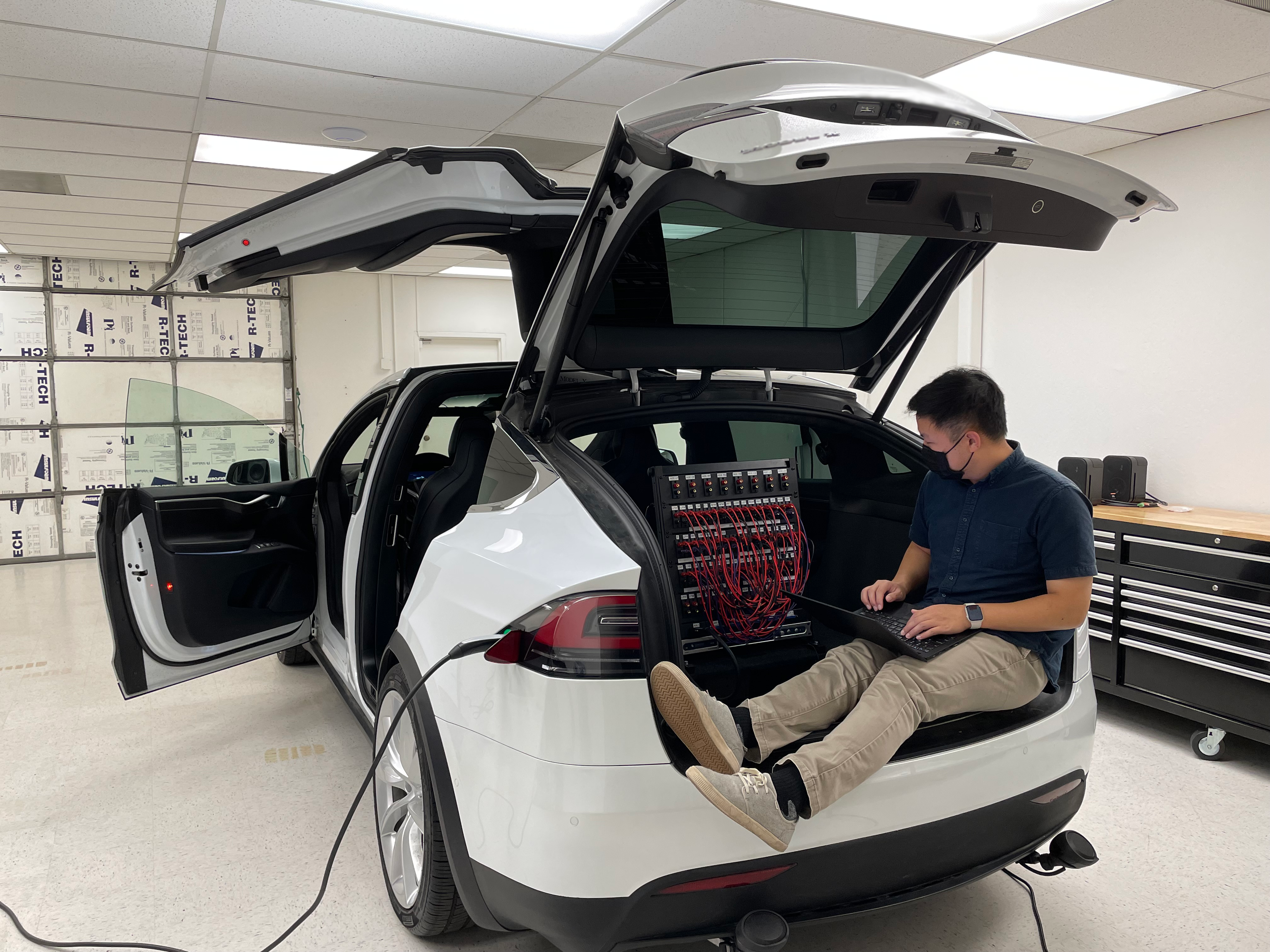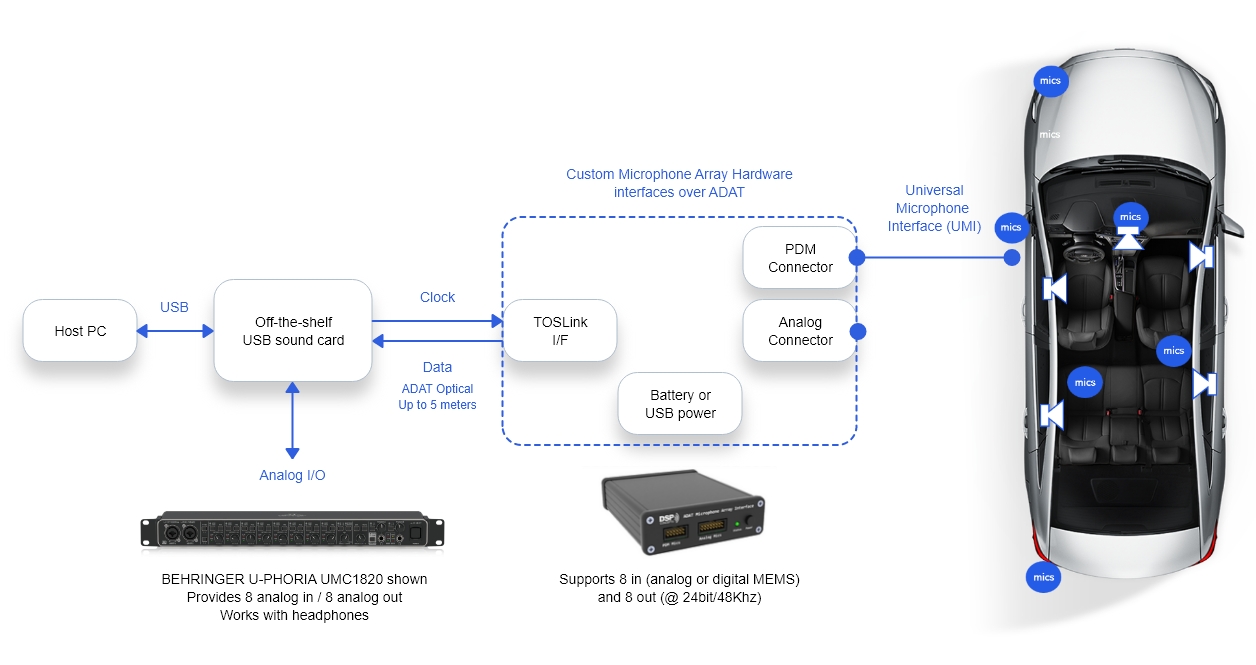 Acoustic Signature Analyzer
Measure the acoustical fingerprint of a vehicle

• Browse and evaluate measurements as impulse or frequency response or in a waterfall diagram
• Measurements can be shown for all seats and microphone positions

Tuning Filter Designer
Computer-aided filter design and optimization

• Set channel and global target curves
• Automatically calculate correction parameters
• Set parameters to optimize system performance for vehicle characteristics

Precision Mastering Tool
Real-time sound tuning and listening test tool

• Manage vehicle prototyping and acoustic system comparisons
• Complete final tuning by listening


System tuning of the entire audio flow including presets

• One application to tune multiple car lines
• Tune with target hardware or in standalone mode
• Easy to adapt to audio flow changes
IC Optimizations and
Reference Designs
NXP Mercury SoC with AWE Tune
Next generation, single-chip software defined radio (SDR) system solution
Audio Weaver modules provide complete audio configuration and tuning for NXP
SAF400X series processors
Full support for EPICS programmable DSP cores within Audio Weaver
Pre-configured signal flow available, for a turnkey audio design utilizing the AWE Tune GUI
Samsung Exynos HiFi 4 Enablement
Tensilica® HiFi 4 DSP provides 32-bit fixed and floating-point performance for demanding automotive applications
Easily integrate DSP Concepts' TalkTo voice control and TalkTogether voice communication solutions
Support for low-latency road noise cancellation (RNC), in-car communications (ICC), and engine sound synthesis (ESS) use cases
Compatibility with Linux or Android systems
Analog Devices Processors with SHARC+® DSP Cores
ADSP-SC5xx/215xx product families available with single- or dual-SHARC+ DSP Core floating point processors for flexible audio connectivity and performance scalability
Optimized Audio Weaver embedded libraries leverage the powerful SHARC+ DSP FIR/IIR hardware accelerators
Incorporates Analog Devices' statistics functions and hand-optimized DSP libraries
Powerful DMA system with innovative digital audio interfaces and internal buses
ADI LISTN™ EZ-AUDIO System
Full in-car entertainment/infotainment system with a complete signal flow right out of the box
Includes ADSP-21562-AUTO hardware with optimized Audio Weaver embedded libraries that leverage the powerful SHARC+ DSP FIR/IIR hardware accelerators
Easily customize and perform system tuning of the entire audio flow with AWE Tune
Powerful and cost-effective solution for exceptional automotive audio with up to 12 speakers