Amlogic A113X Smart Speaker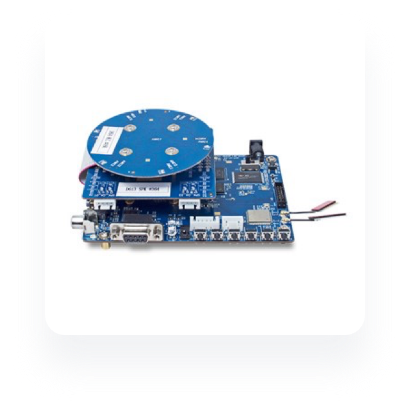 The Amlogic A113X design is flexible and configurable to 2,4 or 6 mic arrays to integrate high performance smart audio far-field voice activation. This flexible development solution uses DSP Concepts' AVS 2.1 Far-field qualified TalkTo, delivering accurate wake word detection at a lower cost and a fraction of the CPU resources on an ARM cortex-A53 core.
Far-field Voice UI
Seamlessly add Alexa to your product to activate by voice from 6m+ range
Selectable mic array geometry
Select 2, 4 or 6-mic configuration to support cost-effective as well as high-performance design preferences
AVS 2.1 Premium far-field qualified
Out-of-the-box, optimized algorithms accelerate product development
Rapid prototyping on Audio Weaver
Easily develop and tune innovative product features using Embedded AWE Core and Audio Weaver Designer interface with drag & drop programming environment
Excellent music barge-in performance
Excellent trigger detection in the presence of device playback
TalkTo AEC significantly exceeds AVS premium specifications
DSP Concepts' TalkTo for excellent far-field performance in noisy environments
• 6-mic adaptive beamformer with Single Channel Noise Reduction (SCNR)

• State-of-the-art noise cancellation with Adaptive Interference Canceller (AIC)

○ No reference signal needed

○ Eliminates 30dB of external noise sources such as background music or a booming movie

• 30+ dB Acoustic Echo Cancellation (AEC) for excellent barge-in performance
Support speaker output with integrated stereo playback processing
Integrated Amazon Pyron lite wake word
Audio Weaver Designer
Drag-and-drop graphical tool to customize and tune audio processing models in real-time with 500+ modules
Audio Weaver Core
Embedded audio processing engine for Cortex-A53
TalkTo Voice UI
Noise reduction, echo cancellation and advanced beam-forming signal processing for far-field voice activation
Multi-channel playback processing algorithms
Hardware Specifications
Processor
Amlogic A113X CPU with Quad-core ARM Cortex-A53 SoC at 1.3 GHZ CPU
Memory
Dual ranks 16-bit DRAM memory interface
Maximum speed of DDR3/3l-2133 and DDR4-2400
Supports upto 2GB DRAM address space
MMC interface with 1/4/8-bit data bus width supporting spec version 5.0 HS400
SLC NAND Flash controller
Built-in 2K bits One-Time-Programming memory for key storage
512 MB DDR3 memory
512 MB SLC NAND flash
Audio I/O
Digital microphone PDM input with programmable CIC, LPF, HPF and support for Up to 8 channelPDM microphones
Concurrent dual audio output of I2S + TDM, I2S + SPDIF or TDM + SPDIF
Built-in serial digital audio SPDIF/IEC958 input and output
Supports digital audio formats decoding including MP3, WMA, WAV, RM, FLAC, HE-AAC, LC-AAC, U-Law Vorbis, Ogg etc.
Programmable with 7.1 / 5.1 downmixing
Audio input Power detector to wake up from low activity states
Hardware-assisted synchronizations blocks for multiple room audio applications.
Connectivity
Integrated IEEE 802.3 10/100M Ethernet MAC with RGMII interface
WiFi & Bluetooth supporting via SDIO3.0, USB, and/or UART/PCM
Included with the demo kit
Amlogic A113X Reference design board
6-mic Circular array board with selectable 2,4,6 mic configuration
Voice UI Quickstart Bundle: Everything you need to know to design voice-
enabled smart home products, including design guidelines, microphone
placement, an Audio Weaver Designer layout (.AWD), and tools to get
started.
USB Cables