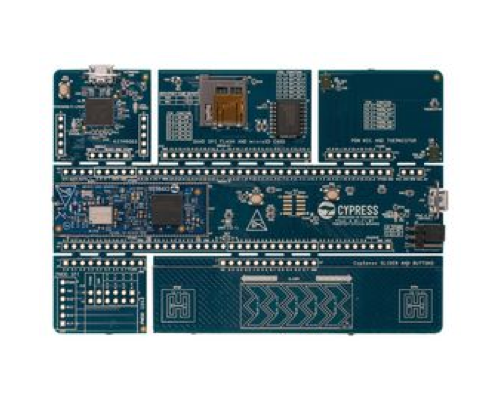 Infineon PSoC6 ultra-low-power reference design provides machine listening with built-in security, on-device processing of local command sets, and "hey Cypress" wake word powered by Sensory TrulyHandsfree™. The design unlocks internet-free voice interaction to a new universe of devices throughout the smart home.
Best-in-class Voice UI
Single-Channel Noise Reduction (SCNR) from DSP Concepts' high-performance TalkTo Audio Front-end
Local commands with intent recognition
Local command recognition
Optimized solution for edge processing
No internet connection required
DSP Concepts' TalkTo for excellent far-field performance in noisy environments
• 2-mic Beamformer with Single Channel Noise Reduction (SCNR)

• Quiescent Sound Detector (QSD) for low power wake-up on interrupt

• State-of-the-art noise cancellation with Adaptive Interference Canceller (AIC)

○ No reference signal needed

○ Eliminates 30dB of external noise sources such as background music or a booming movie)

• 35dB Acoustic Echo Cancellation (AEC) for excellent barge-in performance
Sensory TrulyHandsfree trigger word integration with the following command set
• T

urn On lights

• T

urn Off lights

• O

pen garage door

• Close garage door

• A

/C on

• A

/C off

• S

et temperature at 68F
Audio Weaver Designer
Drag-and-drop graphical tool to customize and tune audio processing models in real-time with 500+ modules
Audio Weaver Core
Embedded audio processing engine for the ARM Cortex-M4
TalkTo Voice UI
Noise reduction and advanced beam-forming signal processing for far-field voice activation
'Hey Cypress' trigger word
PSoC 6 SDK (Modus toolbox) from Infineon
Hardware Specifications
Processor: PSoC6 MCU CY8C62x6/7
CY8CProto-062-4343W module
150-MHz Arm® Cortex®-M4 CPU with single-cycle multiply, floating point, and memory protection unit.
100-MHz Arm Cortex-M0+ as the secondary processor for low-power operations.
Memory
288KB SRAM with power and data retention control
Up to 1MB application flash, 32KB auxiliary flash
Audio I/O
2x PDM-PCM digital microphone interface
1x I2S with TDM mode
on-board debugger/programmer with KitProg3
Connectivity
PSoC6 supports multiple wired and wireless connectivity options including Bluetooth Low Energy, WiFi and USB.
Included with the demo kit
CY8CProt-62-4343W PSoC 6 Wi-Fi BT Prototyping kit
2 mic linear array
PSoC 6 SDK (Modus toolbox)
PSoC 6 Dev kit BSPs, Readme files and documentation
Code examples in

Cypress Github repository
USB cables