NXP i.MX 8M Mini Pico-Pi AVS and ACM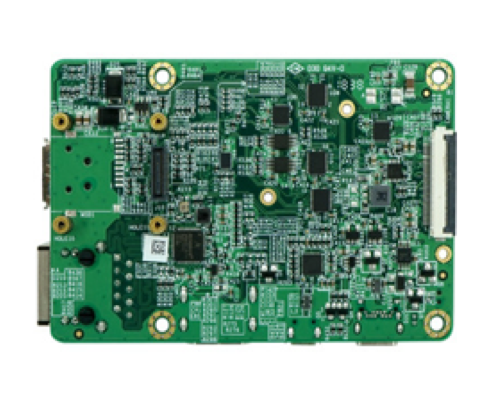 Enable voice calling on smart speakers, sound bars and smart home appliances using Voice activation with a combination of 4 mic TalkTo and 1 mic Talktogether. Using DSP Concepts' ACM qualified front end, the NXP i.MX 8M Mini Pico-Pi ACM and AVS reference design eliminates transmit and receive echo with low latency to provide natural voice experience. Combined with our high performance, AVS FFRS v2.1 qualified TalkTo Voice UI, this NXP design reduces tuning and certification costs with product-ready algorithms.
Extend the TalkTogether design to meet Microsoft Teams or Zoom certification with multi-mic TalkTogether configurations including fixed or adaptive Beamformer, Direction of Arrival (DoA) and advanced noise reduction for seamless audio conferencing.
High quality, full duplex voice communication
R

obust to double talk, acoustic echo and distortions

50+ dB echo cancellation together with AEC and Residual echo suppressor
Flexible Tuning Options
1-

mic TalkTogether with advanced tuning options to trade-off between AEC and speech quality
Integrated Alexa voice service with 6 mic TalkTo
S

eamlessly add Alexa to your product to activate by voice from 5m+ range
Reduce tuning and certification risks and costs
O

ptimized production ready algorithms

E

xpedited hardware validation using Real-time Analysis and System Check (RTASC)
Rapid prototyping and accelerated product development
E

mbedded Audio Weaver Core and Audio Weaver Designer interface with drag & drop programming environment
DSP Concepts' 1-mic TalkTogether for natural, distortion-free speech
• A

coustic Echo Canceller together with Residual Echo Suppression for full duplex voice quality

• S

ingle Channel Noise Reduction (SCNR) to eliminate stationary noises such as fan noise, HVAC, etc.

• Tx Automatic Gain Control (AGC) for optimal hearing at the far-end

• R

eceive Equalization and volume control for improved speech quality in receive direction
DSP Concepts' TalkTo for excellent far-field performance in noisy environments
• 6-mic adaptive beamformer with Single Channel Noise Reduction (SCNR)

• State-of-the-art noise cancellation with Adaptive Interference Canceller (AIC)

○ No reference signal needed

○ Eliminates 30dB of external noise sources such as background music or a booming movie

• 30+ dB Acoustic Echo Cancellation (AEC) for excellent barge-in performance
Stereo Audio Playback processing
Audio Weaver Designer
Drag-and-drop graphical tool to customize and tune audio processing models in real-time with 500+ modules
Audio Weaver Core
Embedded audio processing engine for Cortex A53
DSP Concepts' TalkTogether audio front-end for full duplex voice calls
TalkTo Voice UI
Noise reduction, echo cancellation and advanced beam-forming signal processing for far-field voice activation
Stereo audio playback processing
Sensory TrulyHandsfree 'Alexa' wake word engine
Hardware Specifications
Processor
i.MX 8M Mini Quad core application processor
4x Arm® Cortex®-A53 Core @ 1.8 GHz
1x Arm® Cortex®-M4 @ 400 MHz
Memory
32-bit LPDDR4 w/2 GB
eMMC 5.0/5.1 w/16 GB
SD/MMC connector
QSPI w/32 MB
Audio I/O
Audio DAC 24-bit 192 kHz stereo
HP Jack 3.5 mm audio connector
Board expansion connector for audio interfaces
Connectivity
10/100/1000 Ethernet
USB 3.0 Type C connector
PCIe M.2 interface
Included with the demo kit
i.MX 8M Mini Pico Pi Evaluation kit with i.MX 8M Mini Quad core processor
DSP Concepts' 6 mic Circular array board
Voice UI and Voice Communication QuickStart Bundle: Everything you need to know to design voice products, including design guidelines, microphone placement, Audio Weaver Designer layout files (.AWD), and tools to get started.
USB cables