The increasing complexity of audio-enabled devices is creating new challenges for product makers. DSP Concepts and its audio technology partners are making it easier for manufacturers to improve their product performance and keep up with the latest features and consumer demands. By utilizing a flexible platform complete with algorithms provided by these partners, product development can be accelerated while simultaneously cutting costs and providing must-have features. Using DSP Concepts Audio Weaver — the development platform for the Audio of Things — audio manufacturers can easily enhance their products with licensed technologies from leading brands such as Fraunhofer, Bose, Mimi Hearing Technologies and THX. It is as simple as selecting the desired algorithm from Audio Weaver's list of more than 550 modules, then dragging it into your layout.

The advantages of licensing audio technologies, rather than developing them in-house, are easy to appreciate. Companies that specialize in audio technology development have a focused expertise and proven technology that manufacturers may lack, and licensing is typically less resource-intensive than developing a technology in-house.
Most importantly, licensing audio technologies can radically decrease development time; a company can deploy the licensed technology almost immediately, rather than embarking on a development path of uncertain duration and results. Manufacturers can also benefit from association with well-known names in audio technology.
Fraunhofer Institute for Integrated Circuits IIS has spent the last 30+ years developing and licensing audio technologies such as MP3, AAC, MPEG-H Audio, Enhanced Voice Services (EVS), and Bluetooth LC3/LC3plus. Following these benchmark advancements, Fraunhofer now offers Cingo, perhaps the most versatile audio virtualizer available, already in use by customers worldwide.
Binaural renderers are processors that expand the perceived sonic image to create a surround-sound effect using headphones or loudspeakers. Those renderers are a notable example of a technology that usually makes more sense to license, rather than develop an in-house solution from scratch. They can be applied in physically challenging applications such as headphones and closely spaced speakers in smartphones, tablets, and laptops. No matter what the application, Cingo enables stereo, multichannel, and immersive sound formats to sound natural and spacious. With MPEG-H support, optimized rendering of 3D audio content can be realized on mobile devices, working with audio streams encoded with overhead channels and placement of an arbitrary number of audio objects in virtual space (azimuth, elevation, distance, and spread). This complement of features allows Fraunhofer's solution to create an immersive and realistic listening experience that is in a class of its own compared to other solutions.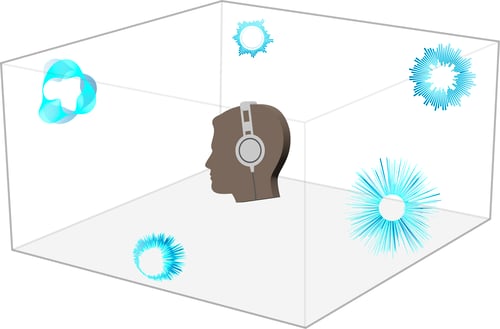 Derived HRTF (Head-Related Transfer Function) profiles apply specialized filtering based on head/ear anatomy and object position, helping Cingo deliver realistic binaural audio. Cingo remains the sole binaural rendering solution that provides true support for object-based audio. Additionally, head tracking is available when positional sensors are present on the target device. Using this sensor data to determine orientation, Cingo dynamically adjusts the stereo field to provide a consistent response that adapts to the position of the listener's head, no matter where it is in relation to the speakers.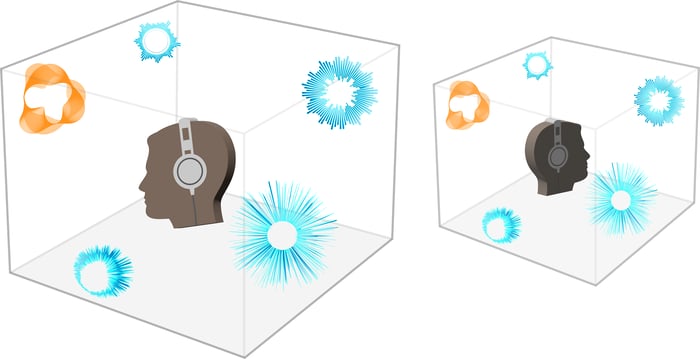 Cingo also includes useful capabilities as equalization to improve the sound of speakers and headphones, and loudness optimization to achieve the best possible sound quality and dialog clarity in any setting.
Developing a virtualizer that can deliver a satisfying sound experience anywhere and everywhere, using practically any hardware, would typically place a great strain on the R&D resources of most manufacturers. With Audio Weaver and its specialized third-party algorithms, these manufacturers can radically cut their development time while easing the load on their development teams, because they can use the same licensed technologies, such as Cingo, for all of their products.
Manufacturers using DSP Concepts Audio Weaver can add and optimize Cingo in a matter of minutes. Simply select Cingo from Audio Weaver's list of more than 550 available processing modules, then drag and drop it into place using Audio Weaver's graphical interface. All signal routing is managed on screen with virtual wires, and all adjustments and optimization of Cingo's functions are easily accomplished using the available controls.
With Audio Weaver, there is no need to write DSP code, and all of the processing modules are already optimized for whichever DSP or SoC you have chosen. The built-in debugging and profiling capabilities of Audio Weaver make it easy to get Cingo and other licensed technologies running fast, potentially cutting hours or even days off development time. All operations can be completed using Audio Weaver — an industry standard that engineers around the world have adopted as the platform of choice for feature development and embedded audio processing. In addition to easily integrating third-party IP using Audio Weaver, OEMs can work with DSP Concepts' customer engineering team for troubleshooting and feature customization.
Cingo is just one of the many licensed technologies now available within Audio Weaver. DSP Concepts offers a full complement of surround sound technologies from DTS, Fraunhofer, VisiSonics, and THX; sound optimization technologies from Bose and Klippel; voice command technologies from Fluent.ai and Sensory; hearing and dialogue enhancement from Alango and Mimi Hearing; and TensorFlow Lite Micro machine learning technology.
No matter which licensed technology you want to access, Audio Weaver streamlines the entire process by cutting the workload on product development teams, reducing time-to-market, and helping product makers to deliver a more competitive product.