The Out-of-the-Box Full In-Car Audio System
ADI LISTN(TM) EZ-AUDIO System with DSP Concepts Audio Weaver and AWE Tune optimized for SHARC+
Following the recent optimization of Audio Weaver® Core runtime libraries for SHARC+® series processors, Analog Devices, Inc. and DSP Concepts have partnered together in the development of a full in-car entertainment system to assist automotive manufacturers in providing their customers with best-in-class stereo audio entertainment systems with up to 12 speaker channels.
The ADI LISTN™ EZ-AUDIO System utilizes ADI SHARC+ hardware and the newly optimized Audio Weaver development platform. This solution represents a complete signal flow right out of the box, with features that simplify customization, tuning, and deployment.
Part 1: The Problem
Automotive consumer expectations have dramatically increased over the past decade, with regards to both high-performance branded and unbranded sound systems alike. A well-performing audio system and an effective soundscape of customized chimes and alerts can contribute to the ownership experience and help solidify an automotive brand's identity.
With many OEMs and Tier 1 suppliers focused on providing the maximum value to consumers, audio systems are often not prioritized due to their cost and the additional required engineering expertise. Since branded audio has typically been out of reach for the more value-conscious market segments, an engaging and tailored audio experience has historically been reserved for premium models and trims.
Part 2: ADI LISTN EZ-AUDIO Solution Features and Benefits
Analog Devices, Inc. now offers the ADSP-21562-AUTO board, designed to provide premium audio for automotive head unit applications. The ADSP-21562 audio processor features a powerful SHARC+ DSP core, upgraded from its predecessor SHARC core to natively support double-precision floating-point operations. The embedded Audio Weaver libraries have now been optimized for the SHARC+ architecture, including leveraging the on-chip FIR/IIR accelerators.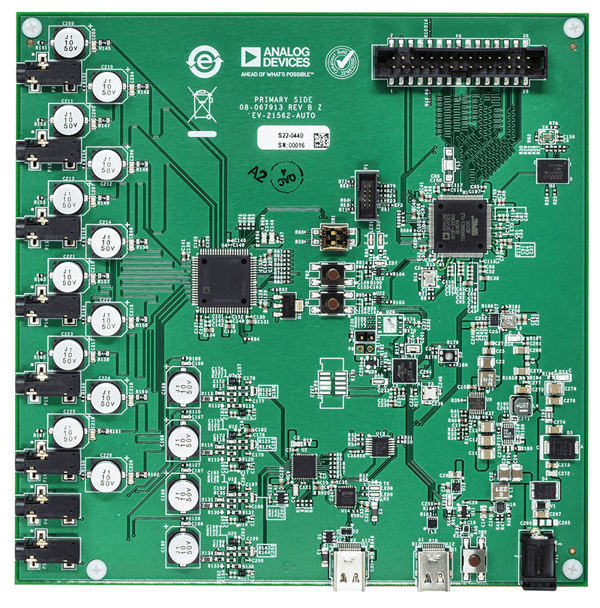 Audio Weaver from DSP Concepts is an audio experience design platform that accelerates automotive audio development, enables product team collaboration, and makes audio innovation easy. This low-code embedded platform reduces risk and complexity with its drag-and-drop host application used for feature design, with the audio processing libraries embedded in the high-performance SHARC+ DSP core. With these tools, Audio Weaver assists automotive audio designers at every step from prototype to production.

The ADI LISTN EZ-AUDIO System includes AWE Tune™, the fully featured automotive audio tuning system that works in conjunction with Audio Weaver. Featuring an intuitive graphical user interface, AWE Tune makes audio system customization and iteration easy with the ability to tune multiple channels at once, create and duplicate presets, lock already-defined presets, and more. CPU load monitoring and tuning report generation helps developers ensure that the system is capable of managing the entire Audio Weaver signal flow with adequate headroom.

With these products packaged as a unified solution, ADI and DSP Concepts deliver a toolkit that is optimized and complete right out of the box and can be customized as needed. Optimized, embedded libraries enable problem-free and efficient development, and all the tools needed for testing and tuning the system are included.
With a single combined hardware and software solution, OEMs can incorporate a fully featured and pre-configured audio layout with essential user controls and features, ready for application into any automotive cabin:
Stereo entertainment audio output for systems with up to 12 speaker channels
Volume/mute/balance/fade/tone controls
Speed-compensated volume adjustment
Full matrix mixer for entertainment channels with delay, gain, and hardware accelerated IIR EQ
Full-featured chimes and prompts
Part 3: Customer Experience
An OEM wishing to deliver a cost-effective vehicle may be faced with the decision to deprioritize the entertainment system, since it requires additional software integration expertise, an audio team, and specialized tools to conduct system tuning. Speed to market is a critical path, and a cost-effective and hassle-free solution is needed.

The ADI LISTN EZ-AUDIO System easily and quickly addresses these struggles. After contacting ADI to obtain the evaluation version, the OEM has everything they need to implement the system into their automotive cabin. The included ADSP-21562-AUTO board is pre-flashed with the board support package firmware image and includes documentation and an example script detailing the control API. The OEM can then easily test and tune the system with the AWE Tune software, which requires no software integration expertise.
With this eval package in place, the OEM has now integrated a high-quality entertainment system into their cabin and been provided all the tools to easily customize it. The only limitation of the evaluation is an audio watermark that plays after one hour of operation.
Once the OEM has evaluated the package features and tuned the system to their preference, they may negotiate a license agreement with Analog Devices to obtain the production software that removes the audio watermark. With one solution, the OEM has avoided research and development costs associated with the in-house development of the entertainment system, while incorporating a premium audio signal flow that can help them stand apart from the competition. The production version includes all hardware files so that the OEM can continue production with minimal cost and effort. Additionally, for OEMs with specific needs, Analog Devices offers options for a customized design and board support package.
Part 4: Conclusion
To learn more about the ADI LISTN EZ-AUDIO System from Analog Devices, please visit http://www.analog.com/ev-21562-auto or email processor.tools.support@analog.com. For more information about the Audio Weaver platform and AWE Tune, please visit https://w.dspconcepts.com/automotive or contact DSP Concepts.